Books: Poetry Collections by Ginny Lowe Connors
Toward the Hanging Tree: Poems of Salem Village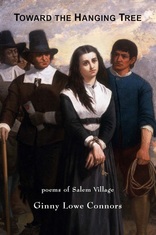 Softcover:
ISBN:
978-1-943826-10-0
I've never felt the terror and pathos of the Salem witchcraft story as deeply as I have after reading Ginny Connors' masterful, carefully hewn poems centered on Sin ('something coiled up and
tight')…. Empathy and major poetry skill combine to make
Toward the Hanging Tree
a gripping, illuminating recasting of our early American nightmare.
--Dick Allen, Connecticut Poet Laureate 2010-2015
This is a never-before attempted, delightful collection of poems relating to the entire story of the Massachusetts witchcraft outbreak of 1692. Through Ginny Lowe Connors' poetic artistry merged with solid research of historic facts, we glimpse the human heart's response to terrifying events. --Richard Trask, historian, expert on the Salem Witch Trials
Order online
from amazon.com
. If you are in the area of Salem, Massachusetts, visit Wicked Good Books on 215 Essex Street and get a copy of the book there.
To read sample poems, click on the link and scroll down
: MORE on Toward The Hanging Tree
or check out the feature on the book that recently appeared in the
Hartford Courant.
This includes a couple of sample poems and some video. Or read the feature article and interviw on the MassPoetry.org monthly blog--Click on
MassPoetry
to learn more about the book and the writing process for it.
This book is suitable for use in secondary classrooms. A
free teacher's guide
is available to educators. The book's price is steeply discounted when ordered in quantities of 15 or more. Ginny Connors is available for classrooms visits (fee is negotiable). Use the contact form on the
home page
for more information on ordering the book for classrooms, for arranging an author visit, or to request a teacher's guide.
---

The Unparalleled Beauty of a Crooked Line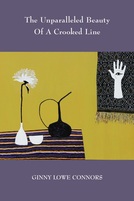 Softcover: ISBN: 978-1-936482-32-0
Connor's ear is pitch-perfect, and her poems make the reader grateful for a soul like hers, someone who names her two hands "Tenderness" and "Slaughter," someone who knows unparalleled difficulty alongside unparalleled beauty.
–
Natasha Sajé


Order online
from Amazon.com
---
Barbarians in the Kitchen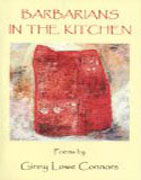 Softcover: ISBN: 0-9762091-4-4

Ginny Connors is a poet who can find beauty while remembering a dangerous childhood game or watching the way a drop of water falls. She is capable of molding words as she seeks to mold her children's wildness into civility, but she is most of all a poet ready to remind us of the beauty found in the quotidian, a poet who urges us never to let the world move beyond our reach.
-
Bessy Reyna

Order online
from Amazon
---

Poetry Anthologies Edited by Ginny Lowe Connors
---
Forgotten Women: A Tribute in Poetry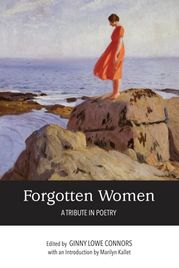 softcover, ISBN: 978-0-9962809-9-0
The subjects of the poems in this book are artists and scientists, sharp-shooters and lighthouse keepers, factory workers, athletes, homemakers, and musicians. There are those who had brief windows of fame, and others who were or are completely anonymous. This remarkable anthology, including work by some of today's most insightful poets, is sure to be valued by those who want to fill in the gaps of history, and make it
her
story too.
Order online from Amazon
---
Laureates of Connecticut: An Anthology of Contemporary Poetry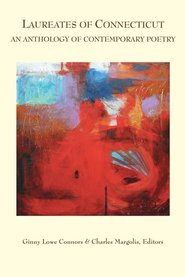 softcover, ISBN: 978-0-9982588-0-5
Ginny Lowe Connors and Charles Margolis, editors
This anthology is the product of twenty-four poets from seventeen towns in Connecticut who have been awarded the title of "Poet Laureate" in their communities. These individuals serve as public ambassadors for poetry, bringing it into the public realm. The collection presents the work of state and local poets laureate so that all can share in the transformative power of poetry.
Order online from Amazon
---

Where Flowers Bloom: Poems of Elizabeth Park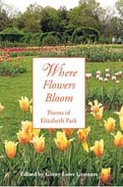 Softcover: ISBN: 978-0-9838603-0-3
Elizabeth Park, located in Hartford and West Hartford, Connecticut, is celebrated in this exquisite small collection of poems and photographs.
Order online
click here
---
Proposing on the Brooklyn Bridge: Poems about Marriage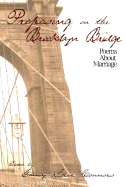 Hardcover: ISBN-13: 978-0967555454
Softcover: ISBN-13: 978-0967555461
In PROPOSING ON THE BROOKLYN BRIDGE, the reader will discover poems for weddings and anniversaries, along with reflections on nearly every aspect of married life. Like Connors' earlier anthology, ESSENTIAL LOVE, this book gives an in-depth look at a topic of nearly universal interest.
Order online
from Amazon

---
To Love One Another: Poems Celebrating Marriage
Hardcover: ISBN-13: 978-0967555430
Softcover: ISBN-13: 978-0967555447
Midwest Book Review
A compendium of superb poetry by a spectrum of poets…from Robert Hardy's "Falling" and Cathleen Calbert's "In Praise of My Young Husband" to E.D. Ehrhyart's "A Scientific Treatise for My Wife" and Leah Furnas' "The Longlyweds Know", To Love One Another is a collections of testaments to the wonder, hopes, desires, and realizations of the universal and enduring bond that is marriage.

Order online from Amazon
---
Essential Love: Poems about Mothers and Fathers, Daughters and Sons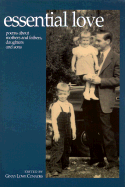 Hardcover:
ISBN-13:
978-0967555416
Softcover:
ISBN-13:
978-0967555423
El Paso Times
Essential Love . . . is an extravagant accumulation of work by poets who have touched the wonder of the modern family in its smallest beauties and its blackest sorrows.

Order online from Amazon
---