Poetry in the Parks

a project I initiated for the town of West Hartford; it blends poetry and art within the natural environment of our parks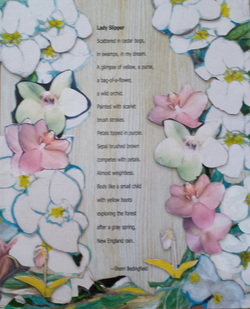 In July of 2015 the parks department installed a series of Poetry Posts, each of which presents a poem written by a local poet combined with the artistic expression of an artist from the area. Poetry Posts were installed in Westmoor and Fernridge Parks.
You can see copies of the poems
here.
---
Who Are the Poets and Artists?
Fernridge Park
"Concert" Poet: Naomi Perry, Artist: Matthew Reiniger
"Grandfather's Girl" Poet: Pat O'Brien, Artist: Lisa Pressamarita
"Heron" Poet: Marilyn Johnston, Artist: Lorelei Chang
"Remember that Time" Poet: Daisy Li, Artists: Stacey Grindle and Megan Cassidy
"Taking a Photograph" Poet: Christopher Jay, Artist: Marty Connors
Westmoor Park
"Again" Poet: Melody Moore, Artist: JoAnne Bauer
"Grandchildren" Poet: Bob Jacob, Artist: Lisa Pressamarita
"Lady Slipper" Poet and Artist: Sherri Bedingfield
"The Violet" Poet: Samuel Frank, Artists: Eileen Chen and Daniela Valencia
"What Roses Know" Poet: Alice Fraioli, Artists: Ian Nicastro and Samantha Scillia
Find out more about the poets and artists
here!