Poetry in the Parks

a project sponsored by the town of West Hartford, which seeks to blend poetry and art within the natural environment of our parks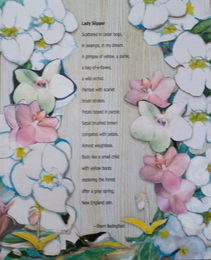 Poetry in the Parks
is a project I initiated for the town of West Hartford. It blends poetry and art within the natural environment of our parks. In early July, 2015,displays were installed in Fernridge Park and Westmoor Park. Each poetry post presents a poem written by a local poet combined with the artistic expression of an artist from the area. e displays will be on view throughout the summer and fall.
Here
is more information on the project.
---
Want to Know more about the poets and artists?

Fernridge Park

"Concert" Poet: Naomi Perry, Artist: Matthew Reiniger
Naomi Perry is a recent graduate of Hall High School in West Hartford.

Matthew Reiniger agrees that some days feel like symphonies. We might have favorite sections of the orchestra--mine are usually the clouds and the flowers--but a great days just flows, entire.

"Grandfather's Girl" Poet: Pat O'Brien, Artist: Lisa Pressamarita
Pat O'Brien was raised in the Bronx on the top floor of a 7-story apartment building. When her family left the confines of the city to visit grandparents in North Adams, MA, Pat fell under the spell of small town living in the foothills of the Berkshires. The poet says, "Although my grandparents died while I was still a child, pictures such as the one below often remind me how well I was loved in the expanse of that open, magical countryside."

Lisa Pressamarita has always found art standing right in front of her. Painting the posts was a pleasure for her because of the metaphors found in the poetry.

"Heron" Poet: Marilyn Johnston, Artist: Lorelei Chang
Marilyn Johnston has authored two full collections, Weight of the Angel and Silk Fist Songs, as well as a prize-winning chapbook, Against Disappearance. A staffer in the Bloomfield Libraries, she directs a popular poetry reading series there for Connecticut poets. The image depicted in "Heron" came to the poet in a dream two days after the passing away of her friend, poet Tirzah Gerstein. The dream brought Marilyn a great sense of peace. As a symbol, the heron is associated with the spirit realm in many of the world's mythologies. Native Americans believed their wise elders returned as herons.

Lorelei Chang began her calligraphy study along with her twin sister, Mai Nakanishi, under their father's guidance at age five, and continued their daily practice for many years. Until this day, she appreciates her first ballet teacher, Luo Bi Yu who had wisdom of connecting this ancient art form to their vigorous dance training and introduced the calligraphy course as a part of the dance curriculum. She has won many calligraphy awards. Her beautiful Kai script was selected to display at Tokyo Museum along with her sister, Mai Nakanishi's award-winning pieces. Ms. Chang is the founder and Artistic Director of dancEnlight , a nonprofit organization of multi-cultural modern dance company based in Hartford, CT. She is currently on the faculty of Connecticut Concert Ballet, and she teaches Chinese calligraphy and Qigong at her home. She also teaches Yoga, Pilates and Qigong at South Windsor Senior Center.

"Remember that Time" Poet: Daisy Li, Artists: Stacey Grindle and Megan Cassidy
Daisy Li was a student at King Philip Middle School when she wrote this poem.

Stacey Grindle and Megan Cassidy are art teachers at King Philip Middle School. They were approached by former student Daisy Li about creating a poetry post that reflected her beautifully written poem. What struck the artists about the poem was the loneliness that resonates with the reader. The artists tried to translate that loneliness into the painting while also setting a sense of serenity at the same time.

"Taking a Photograph" Poet: Christopher Jay, Artist: Marty Connors
Christopher Jay has been writing poetry for most of his life. He draws on nature for many of his themes, and usually writes poems while listening to music. He especially enjoys modern Latin American poetry.

Marty Connors, a teacher of physics and astronomy at Farmington High School, is the construction engineer for the Poetry in the Parks project.

Westmoor Park

"Again" Poet: Melody Moore, Artist: JoAnne Bauer
When Melody Jane Moore isn't writing poetry she may be found teaching English or knitting in public. She is the designer of the "Melody Shawl" from Morehouse Farm. Melody earned an MFA from Sarah Lawrence College, and her poetry has been published in Connecticut River Review and the Faxon Poets Perspectives .

JoAnne Bauer hosts Art Talks for West Hartford Community TV. JoAnne's artwork has been exhibited in more than 75 shows in Greater Harford area, and she was a board member for Artworks Gallery downtown. She is the author of a poetry book, Drawn Parallels. She also works as an educational consultant, mentor, and mediator.

"Grandchildren" Poet: Bob Jacob, Artist: Lisa Pressamarita
Bob Jacob wrote each day about whatever or whoever was before him in real time or a part of his consciousness. He felt that the Spirit spoke to him and gave him ideas/perspectives for poems. He was a wonderful, loving grandfather and very involved in his grandchildren's lives. "Grandchildren" speaks to his love for them. Bob passed away in March 2013. His daughter is pretty sure that he is right now proudly gazing down at people who are reading his words and enjoying the beautiful West Hartford park settings.

Lisa Pressamarita has always found art standing right in front of her. Painting the posts was a pleasure for her because of the metaphors found in the poetry.

"Lady Slipper" Poet and Artist: Sherri Bedingfield
Sherri (Sheryll) Bedingfield is an artist and a poet. She works as a licensed psychotherapist, systems and couples therapist. A book of her poetry, Transitions and Transformations, was published in 2010, and one of her paintings is on its cover. Sherri works with art and poetry as a medium for healing with some of her therapy clients. She loves nature and has enjoyed her search for wild orchids throughout Connecticut.

"The Violet" Poet: Samuel Frank, Artists: Eileen Chen and Daniela Valencia
Sam Frank: will be in 7th grade at King Phillip Middle School in fall. He loves sports, math, and writing. The poem was written for his baby sister, Violet, now 2, whom he continues to shower with love affection.

Eileen Chen and Daniela Valencia are students at Sedgwick Middle School. Eileen enjoys expressing her feelings through the arts. Her favorite subjects are math and language arts. Daniela finds satisfaction in expressing her ideas artistically. She likes to swim during the summer. Daniela loves reading, especially horror books, and has enjoyed working with Eileen painting an interpretation of the poem for this project.

"What Roses Know" Poet: Alice Fraioli, Artists: Ian Nicastro and Samantha Scillia
Alice Fraioli, of West Hartford, is a student at Ithaca College.

Ian Nicastro and Samantha Scillia will be entering the seventh grade in the fall of 2015. Ian is twelve years old. He loves to draw, paint, and design. Samantha finds joy in expressing in drawing and expressing herself through art.